Quality

This article may require cleanup to meet the quality standards of this wiki.
| | |
| --- | --- |
| | Stub |
This page covers the background of Viscera Cleanup Detail itself, providing information and links about the history of the game and its 3 DLC expansions.
Version History
Edit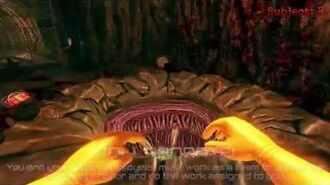 Base Game
Edit
Viscera Cleanup Detail was initially released as free demo (version Alpha 1.0) on the Runestorm website and various other gaming hubs, including Steam Greenlight, on July 10, 2013. After being Greenlit in August 2013, version 0.25 of the game officially moved into Early Access in April 2014. It remained in Early Access until October 23, 2015, and was released as version 1.0.
---
=== Shadow Warrior ===
Viscera Cleanup Detail: Shadow Warrior was the first expansion created for the game. The content is a crossover (and parody) of Viscera Cleanup Detail and the popular FPS game Shadow Warrior. Released October 11, 2013 on Steam as a standalone game (not requiring the base VCD game to play), it takes the player (as a janitor, of course) through one of the most iconic levels in Shadow Warrior, the Shadow Temple. Unlike other VCD games, VCD:SW includes custom, context-based voiceovers, parodying Lo Wang's humorous comments in Shadow Warrior. As it features assets from both games, Steam Workshop content usage is limited by licensing restrictions. The DLC was, and still is, offered free along with a purchase of either Shadow Warrior or Viscera Cleanup Detail.
---
=== Santa's Rampage ===
Viscera Cleanup Detail: Santa's Rampage was the second expansion created for the game, and the first with a holiday theme. It introduced a new map, custom content, an original Christmas-themed soundtrack, 13 achievements, and collectible items. It was released December 13, 2013 on Steam as a standalone game (not requiring the base game). Players who pre-ordered the base game received Santa's Rampage as a complimentary gift.
The Santa's Rampage DLC content was merged into the main game on December 8, 2015 along with the update to v1.04, and like VCD:SW, is now free with the base game. The standalone version is still available to purchase and play separately.
---
House of Horror
Edit
Viscera Cleanup Detail: House of Horror
was the third expansion created for the game, and the second holiday-themed level. It introduced a fairly large map, all new custom content and level mechanics, an original soundtrack, 10 achievements, collectible items, and several "
easter eggs
" related to the Halloween theme. It was released
October 29, 2015
on Steam along with an update to
v1.01
. (The respective Runestorm blog update can be found
here
.) It is the first paid DLC in the collection, and requires the base game to play.
---
== Media Coverage ==
A list of blog posts and articles mentioning or reviewing VCD and its expansions.
Other Links
Edit
[Runestorm VCD blog(s), other official related sites, etc.]
Image Gallery
Edit
[Promotional images not used on other wiki pages.]
Ad blocker interference detected!
Wikia is a free-to-use site that makes money from advertising. We have a modified experience for viewers using ad blockers

Wikia is not accessible if you've made further modifications. Remove the custom ad blocker rule(s) and the page will load as expected.